PRIVACY RIGHTS MANAGEMENT
COMPLY WITH CURRENT AND EMERGING PRIVACY LAWS WITH EASE
Truyo's all-in-one privacy rights platform is a scalable solution that simplifies privacy for you and your privacy team as you work to comply with laws like GDPR, CCPA, and VCDPA. With a tsunami of ongoing state privacy changes ahead, Truyo automatically helps you comply with our best-in-class features and tools.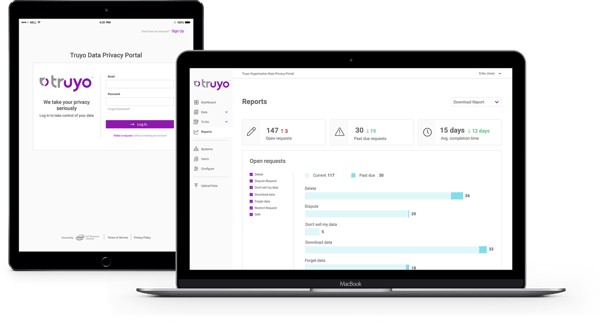 A Scalable & Future-Proof Solution
Prepare for complex and ever-changing privacy laws and remove doubt with Truyo.
Provide a best-in-class privacy rights management solution to consumers, privacy teams, and service providers. Automate your consumers' requests for access, deletion, correction, and Do Not Sell. The Truyo solution scales to meet your needs. Whether you need something simple or full automation, Truyo has you covered.
Truyo's Privacy Solutions